President expands on idea to arm some teachers in schools and says gun-adept teachers/coaches would solve the problem instantly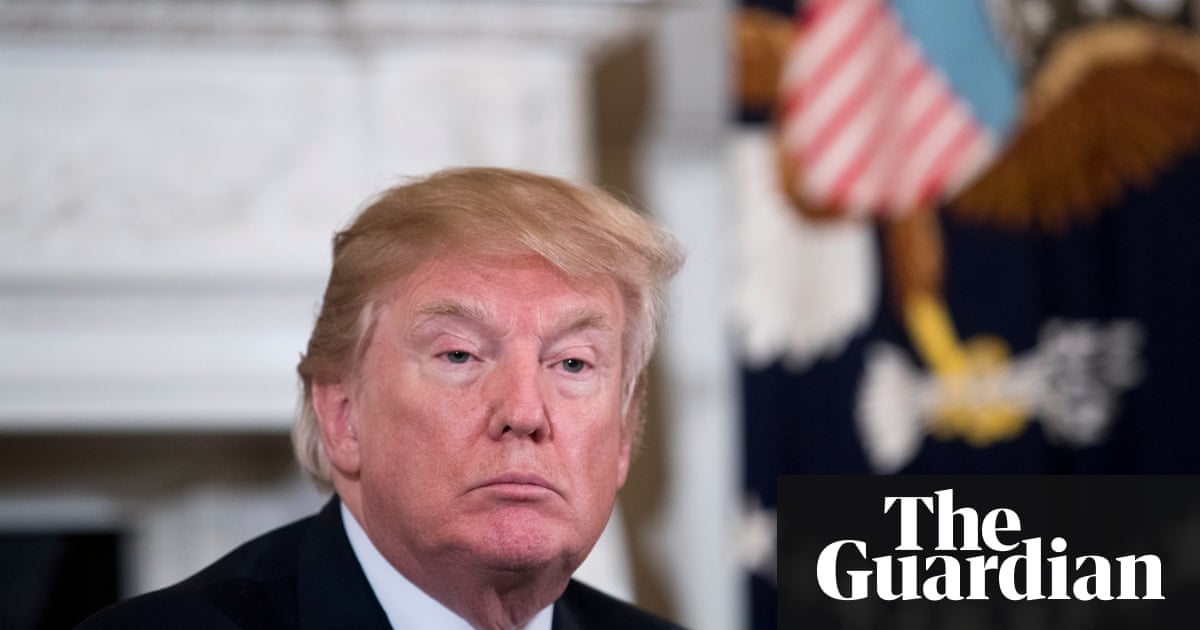 Donald Trump doubled down on his proposal to address school shootings by giving some teachers guns, tweeting on Thursday it would be a great deterrent to killers.
At a meeting at the White House with state and local officials early Thursday afternoon, Trump talked of paying bonuses to some teachers, providing highly adept people, people who understand weaponry, guns … [with] a concealed permit.
He suggested paying bonuses to armed, trained teachers, suggesting that 10, 20, 40% of teachers could be qualified, especially retired military personnel.
I want my schools protected just like I want my banks protected, he said.
But Trump spoke against the kind of active shooter drills that are becoming the norm in many schools.
Active shooter drills is a very negative thing … If Im a child, Im 10 years old and they say … People may come in and shoot you … I dont like it. Id much rather have a hardened school.
In contrast to the presidents combative tone at the meeting, the Parkland mayor, Christine Hunschofsky, addressed safety and mental health, and then alluded to the assault rifle used in last Wednesdays massacre in Parkland, saying: In the end, how did somebody like this person get access to that kind of firearm?
At an emotional session at the White House the day before, the US president held a listening session with survivors of last weeks Florida school shooting and others affected by gun violence, telling them
armed teachers and school coaches could very well end the attack very quickly.
On Thursday, Trump tweeted: 20% of teachers, a lot, would now be able to immediately fire back if a savage sicko came to a school with bad intentions. Highly trained teachers would also serve as a deterrent to the cowards that do this.
He added: ATTACKS WOULD END! History shows that a school shooting lasts, on average, 3 minutes. It takes first responders 5 to 8 minutes to get to site of crime. Highly trained, gun adept, teachers/coaches would solve the problem instantly, before police arrive. GREAT DETERRENT!
It emerged after the shooting at Marjory Stoneman Douglas high schools sprawling campus in Parkland that there was an armed security guard on site, but he had no chance to engage the gunman, Nikolas Cruz.
Trump said having so-called gun-free zones around schools created a situation for school shooters like going in for the ice cream.
At Wednesdays meeting, Nicole Hockley, whose six-year-old son, Dylan, died at Sandy Hook elementary school in Newtown, Connecticut, in 2012, spoke out against arming teachers. I would rather arm them with the knowledge of how to prevent these acts from happening in the first place, she told Trump on Wednesday.
Safety assessment programmes and interventions for troubled children were vital, she added. It is the gun, its the person behind the gun and its about helping people before they ever reach that point.
The American Federation of Teachers passed a resolution condemning calls to arm teachers. Anyone who wants guns in schools has no understanding of what goes on inside them or worse, doesnt care, the unionpresident, Randi Weingarten, said in a statement.
South Dakota passed a law in March 2013 to allow armedschool personnel . The program was launched by a school district in 2016, but there are few further details.
The NRA provided $30m to Trumps presidential campaign. However, Trump also endorsed policies the gun lobby broadly opposes, inearly morning tweets.
I will be strongly pushing Comprehensive Background Checks with an emphasis on Mental Health, Trump tweeted. Raise age to 21 and end sale of Bump Stocks!
Barack Obama weighed in on Thursday, tweeting:
Young people have helped lead all our great movements. How inspiring to see it again in so many smart, fearless students standing up for their right to be safe … Weve been waiting for you. And weve got your backs.
Read more: https://www.theguardian.com/us-news/2018/feb/22/trump-proposal-teachers-guns-schools